Artists for the Ethical Treatment of Music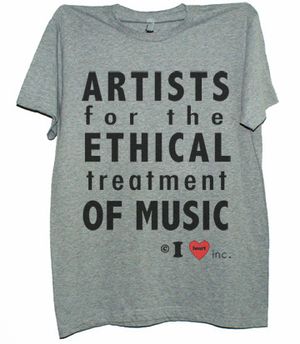 ORDER your shirt now!

I HEART Inc is about artists giving back to their communities, working together on creative projects and events in the spirit of creating something bigger than the sum of its parts. In a climate in which it's becoming increasingly difficult to survive in the recording arts, we feel the need to also launch a program that allows music makers and music lovers to help one another.  
It's challenging more so than ever for independent musicians (and the vast network of those that work in conjunction with them) to make ends meet due to the diminishing returns of music and our inability to find a way to protect and fairly compensate the artists who create it. The mission of this project is to provide independent musicians with grants that will aid in the proliferation of great music. We hope to not only raise funding, but also awareness. We'd like to educate and promote an understanding of artist's rights and the value of music in an attempt to do our part in facilitating change within a system that is currently failing too many.
We'd much appreciate your help in raising awareness and funding by wearing one of our Artists For The Ethical Treatment of Music t-shirts.
With love and hope for a bright future of music,
I HEART